The Wazirx NFT marketplace differs from the Polygon NFT marketplace. In this post we will review the Wazirx NFT marketplace and the Polygon NFT marketplace
We might find ourselves in a state of confusion concerning how the Wazirx NFT marketplace differs from the Polygon NFT marketplace and what the NFT marketplaces are all about. In this post, we will review the Wazirx NFT marketplace and the Polygon NFT marketplace.
NFTs act as a bridge for millions of users who are transitioning to Web3.0 via digital collectibles. The popularity of non-fungible tokens (NFTs) has skyrocketed in the past year.
The rising demand from both crypto novices and enthusiasts has also prompted many artists to consider selling their work on the NFT marketplace.
There are over 100 NFT marketplaces available today, with Opensea being the biggest of them all, but there are two particular NFT marketplaces that are confusing to both crypto novices and a few enthusiasts: the Wazirx NFT marketplace and the Polygon NFT marketplace.
Wazirx NFT Marketplace Vs Polygon NFT Marketplace
What Is Wazirx NFT Marketplace?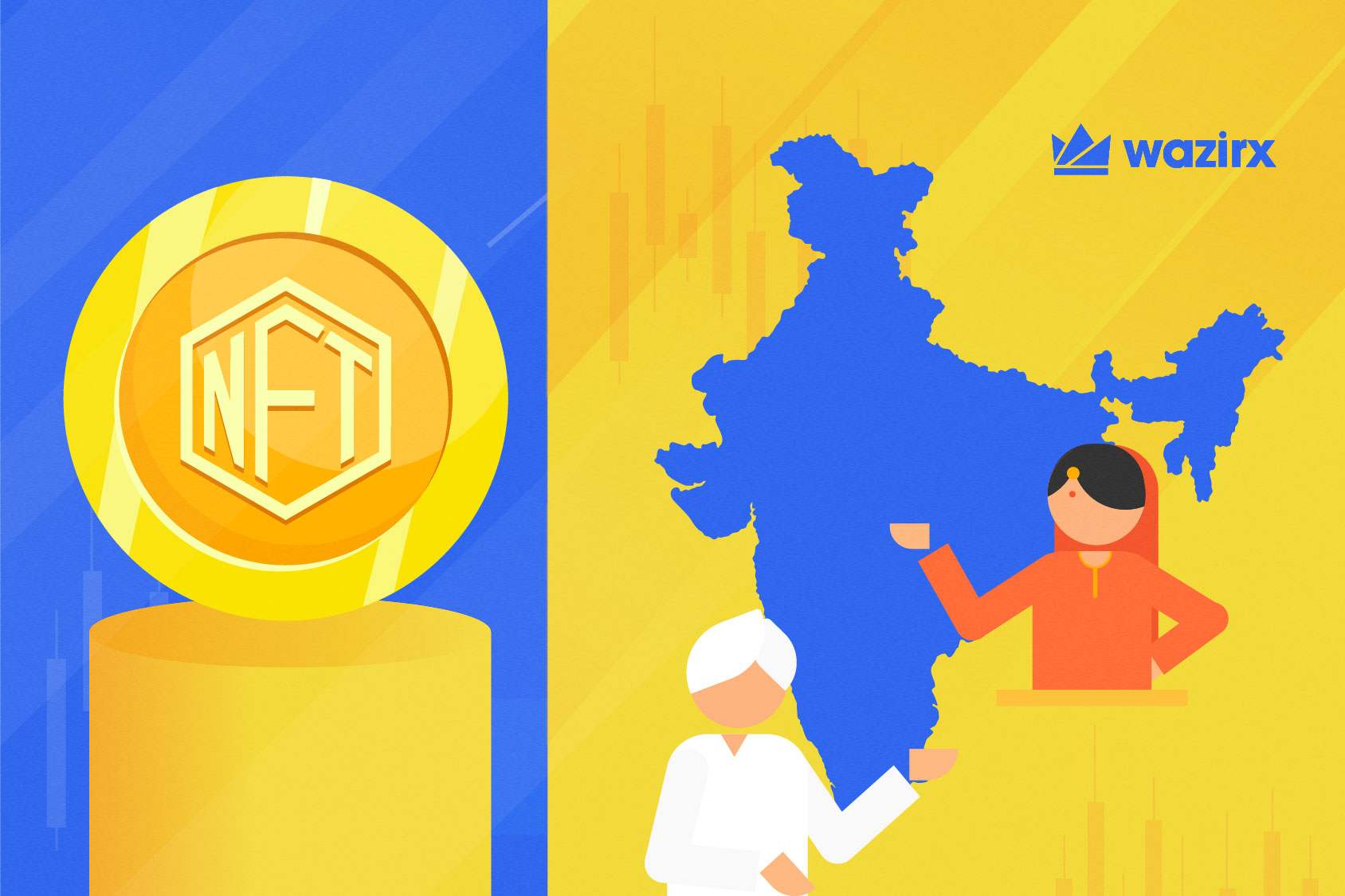 Wazirx NFT Marketplace is a platform designed specifically for the art industry where one can buy, sell, and create NFTs. Wazirx is an India-based company, so the primary focus is on Indian-based artists.
Wazirx launched its own NFT Marketplace in a beta version on May 31st, 2021, which became India's first NFT Marketplace. The launch follows a month in which WazirX's in-house exchange token, WRX, increased in value by nearly 2,000 percent, rising from $0.27 to $5.66.
The exchange itself followed the same pattern over the last six months, with visitors to its website increasing by 631 percent.
Currently. Wazirx NFT has 15 creators, and the company has whitelisted 300 more. Popular artists on the platform include Vimal Chandran, street artist Tyler, photographer Arjun menonm, and others. They have received nearly 15K applications from creators all over the world, according to reports.
How Does Wazirx NFT Work
The blockchain behind Wazirx NFT is the Binance Smart Chain. The majority of NFT marketplaces are built on the Ethereum Blockchain, but Wazirx NFT is built on the Binance Smart Chain, which uses the WRX token, Wazirx's native token, for transactions that eventually increase the price and global image of WRX, and has committed 50K tokens as a giveaway.
Wazirx NFT was not the first NFT marketplace to be built on the Binance smart chain; three other popular NFT marketplaces include Bakeryswap, Pancakeswap, and Battle Pets.
The NFTs in the Wazirx NFT are interoperable and can be transacted on other blockchains such as Ethereum.
The platform which operates on the Binance Smart chain is divided into two sections.
Spotlight
Discover
Read more: Freeverse grabs €10M funding to focus on NFT 2.0 platform
The platform displays 50 selected artists each day in the Discover section, where new talents are discovered, whereas the spotlight category is a type of direct marketplace. Anyone who has signed up can easily access the marketplace to buy or sell NFTs using the WRX token.
Now, we can see a lot of digital artworks and photographs in the market. These prices are denoted in WRX.
It also provides detailed information for each NFT listed, such as;
File Size
Original Resolution
Tools used
Creator of the NFT
Owner of NFT
Before they can buy or sell, users must first link their metamask wallet to their registered account.
How To Mint NFT on Wazirx NFT?
Step 1: Link your wallet to the marketplace.
Step 2:Complete the requirements and set a price for your work.
Step 3: Submit your artwork.
Step 4: Pay the platform's gas fee using the payment options available in the Wazirx NFT.
Features of Wazirx NFT
Wazirx is an NFT marketplace for local artists
Reduce the cost associated with minting an NFT for the artist
The ingenuity of WazirX lies in the flexible P2P model, that allows users to trade cryptocurrencies between themselves
WazirX provided buyers in India with an easy way to invest in cryptocurrencies.
The NFTs in the Wazirx NFT are interoperable and can be transacted on other blockchains such as Ethereum
What Is Polygon NFT Marketplace?
Polygon was first introduced in 2019. It is a scaling solution for layer 2. It enables blockchains to scale beyond their own capacity constraints. While Polygon is a blockchain on its own, it is built on Ethereum.
The network was originally known as "Matic" until it was rebranded in 2021. It has kept MATIC as its native token's ticker symbol.
Polygon is a decentralized Ethereum scaling platform that enables developers to create scalable, user-friendly dApps with low transaction fees and high security.
Currently, dApps can be found in 17 different categories, including exchanges, games, finance, gambling, development, storage, high-risk, wallet, governance, property, identity, media, social, security, energy, insurance, and health.
Read more: OpenSea Ethereum vs Polygon: Which Blockchain to Prefer for Launching NFT
Most dApps already necessitate far more transaction capacity than standard value transactions. Minting, buying, and selling NFTs necessitates even greater throughput.
If the transaction cost is too high, adoption of the technology will stall or fall. As a result, layer 2 scaling solutions such as Polygon are critical for the NFT market's future growth.
Features of Polygon NFT Marketplace
Security
Transactions on the NFT marketplace happen more safely because of the "security as a service" provided by Ethereum.
User Experience
Enrich level of user experience as a security and the low gas fee is required
Developer Experience
It does not require protocol-level knowledge, token deposits, and fee.
Modularity
Polygon networks are highly flexible to customizability, extensibility, and upgradeability
List Of Best Polygon NFT Marketplace
For miners to secure the network, each blockchain transaction necessitates the payment of a fee. You want to keep these fees as low as possible because minting NFTs or buying and selling them on marketplaces necessitates a large number of transactions. That is no longer possible on Ethereum due to its size and popularity.
Layer 2 scaling solutions can reduce these fees by more than 99 percent, lowering the barrier to entry for new users significantly. We are essentially forced to use layer 2 solutions because the fees associated with doing anything on Ethereum have become so high.
Are you fed up with Ethereum's excessive gas fees and want to try Polygon (also known as Matic) as a cheaper alternative? Here is a list of Polygon NFT marketplaces;
Opensea
NFTrade
PlaydApp
Rarible
AirNFTs
1. Opensea
Opensea is the most popular, first, and largest polygon NFT marketplace. Art, Collectibles, Domain Names, Music, Photography, Sports, Trading Cards, Utility, and Virtual Worlds are among the categories covered by its NFT collection.
People like DeadMau5 and even institutions like Rhode Island School of Design have submitted notable NFTs. A live tracker of the top 7 collections over the course of 7 days is available on their website landing page, creating demand for similar NFTs or those by the same creator.
OpenSea aims to make transacting on Polygon as simple as possible, as well as provide a currency bridge from Ethereum to Polygon. Popular options like Metamask and Coinbase, as well as Autherium, Portis, and Torus, are supported by payment wallets.
2. NFTrade
Read more: The Ethereum Scalability Battle Rages on – Polygon vs Loopring
NFTTrade is a platform that aggregates all NFTs and also includes a list of crypto farms where you can earn cryptocurrency through play-2-earn. NFTrade is the first NFT platform that is both cross-chain and blockchain.
They are a network that connects all NFT marketplaces and hosts the entire NFT lifecycle, allowing anyone to create, buy, trade, exchange, farm, and leverage NFTs in real-time across multiple blockchains.
Through the purchase of $NFTD, NFTrade's native governance and utility token, you can also create NFTs on NFTTrade. NFTrade bills itself as an all-in-one platform that works with a variety of blockchains.
You can not only trade or swap NFTs on the platform, but you can also create your own NFTs and collections. NFTrade is simple to use and supports Ethereum, Binance Chain, Polygon, Avalance, and even Moonriver (Kusama).
3. PlaydApp
PlayDapp, as the name suggests, is a Polygon-based NFT marketplace specializing in video games and the purchase of in-game microtransactions.
The Android-based game "Along with the Gods" is the highlight of their marketplace. They provide AWTG P2E, a dedicated server that allows players to enjoy AWTG while also earning rewards other than in-game items by fulfilling certain requirements.
Players can earn rewards on the P2E server by completing daily objectives or competing in weekly PVP tournaments. Along with the Gods: Knights of the Dawn P2E gives you the opportunity to earn PLA, PlayDapp's native token, which can be traded on major exchanges like Coinbase, Upbit, and Crypto.com.
PLAYDAPP Town, Cometh, Playdapp Dragon, and League of Kingdoms are some of the other popular dApp games that are supported.
4. Rarible
Rarible is a piece of software that allows digital artists and creators to create and sell bespoke crypto assets that represent their work's ownership. Rarible is notable because it is both a marketplace for such assets and a distributed Ethereum-based network that allows them to be traded without the need for a middleman.
For the NFT marketplace, there is a protocol. Rarible announced that its multi-chain extension now supports NFT assets generated on Polygon.
5. AirNFT
Another popular marketplace where Polygon NFT can be created and Matic, Polygon's cryptocurrency, can be earned is AirNFT. It allows you to mint Polygon NFTs for less than a dollar, trade them, mint them, and earn Matic with them. ‍
There are several advantages to setting up a Polygon NFT marketplace on AirNFTs, aside from the user-friendly setup. Let's take a closer look at three of them:
Increased reach: for creators, putting their Polygon NFTs on a cross-chain marketplace expands their reach and, as a result, their chances of selling. Collectors who buy NFTs on a marketplace that supports multiple blockchains have a better chance of meeting other collectors who are willing to buy their NFTs. Also, as surprising as it may seem, all NFTs created on the Polygon network will appear automatically on the Opensea polygon dashboard for greater visibility!
Speed and Low Cost: Because of its low cost and speed, Polygon has become a popular Ethereum alternative. It's 1000 times less expensive than Ethereum. You get Ethereum benefits without having to pay for gas.
Earn MATIC: Every NFT collector on the Polygon network earns MATIC (Polygon's utility token), just like BSC-based users earn BNB.
Find more: Indiabased layer nft vc – Krypto-NFTs
Source: 🔗