Looking on the next top NFT exchanges
LooksRare answered the call for an OpenSea competitor and launched its NFT marketplace on January 10th, 2022, with nothing less than a vampire attack on its biggest rival.
The anonymous team behind LooksRare airdropped their native LOOKS token to OpenSea users to give them an incentive to join their platform. So far, they've been quite successful with this strategy, the number of users is growing daily, making it one of the top competitors for the biggest NFT marketplace.
A growing number of people consider LooksRare to be a true competitor for the best place to buy NFTs nowadays. Let's find out how to use LooksRare and cover the features that set it aside from its bigger brother.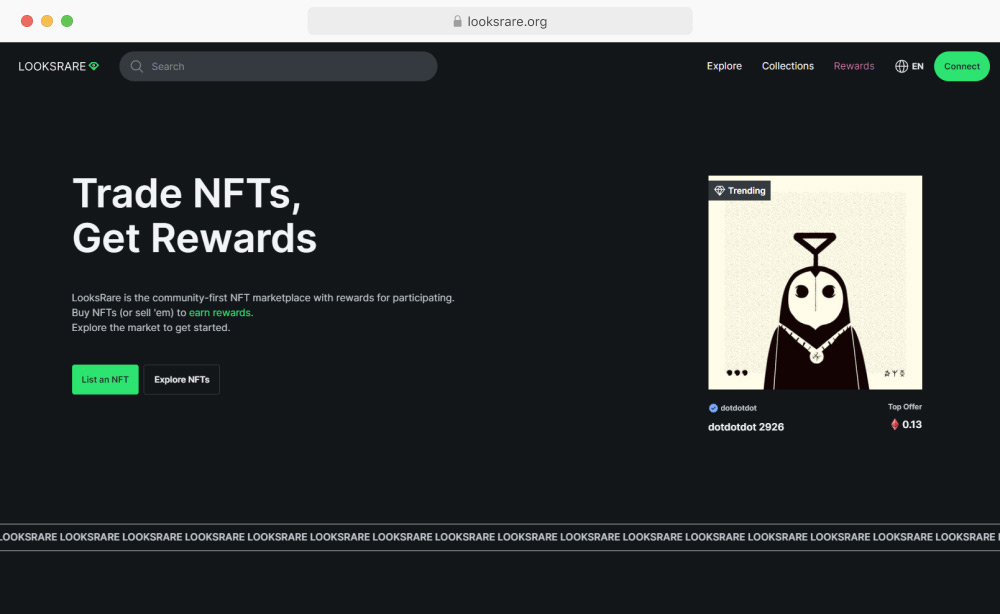 Pros
Trading rewards
$LOOKS staking
Strong community incentives
Intuitive User-Interface
Cons
Wash trades to bloat up sales volume and rewards payout
A smaller selection of NFT categories
Lower real sales volume
Ethereum is the only supported blockchain
What Makes LooksRare Unique?
It will feel familiar to visit LooksRare's marketplace if you have used OpenSea before. The website is very user-friendly and you will only need an NFT wallet to start trading NFTs.
You can easily set up a wallet in no time but if you haven't done this before, we will cover the supported wallets later.
Even though LooksRare might feel like an OpenSea-clone at first glance, there are some features that make this new NFT marketplace unique.
First off, next to the NFT marketplace, LooksRare has its own native token. This opens the opportunity for user incentives like rewards for trading NFTs or staking the $LOOKS token to receive a fraction of transaction fees.
Another interesting feature for artists is instant royalty payout, instead of waiting for a recurring payout, users will get their royalties as soon as an NFT is sold.
In the next section, we will cover more unique features for trading NFTs on the LooksRare marketplace.
Buying and Selling options
Besides the classic options of instant-buy and offer, LooksRare gives users the opportunity to make an offer on a whole collection.
For example, if a user only wants to enter a project and doesn't care which NFT they will get, they can send an offer to all wallet addresses holding an NFT of a said collection with LooksRare covering for the gas costs along the way.
LooksRare charges a 2% fee for every trade on the marketplace. Fees are drawn in wrapped Ether and distributed back to wallets that stake the platform's LOOKS token by 100% at the time of writing this. Users will always get a partial refund of paid fees if they participate in LooksRare's staking program.
Buyers have the option to buy NFTs in ETH or WETH. If the total of either is not enough to cover for a transaction, users have the option to pay in both Ether and its wrapped version combined.
These among other features make the LooksRare marketplace very attractive for artists and buyers alike, arguably making it the best NFT minting platform because of its attractive incentives.
NFT Categories
Compared to other top NFT exchanges, LooksRare offers not as many NFT categories. The biggest collections on the marketplace consist of collectibles and generative art projects like Bored Ape Yacht Club.
A key difference to other NFT marketplaces is how LooksRare handles derivative PFP NFT projects. These kinds of collections have a hard time getting verified on OpenSea for example as they clearly are based on existing NFT collections.
Instead of cracking down on those collections and taking them from the platform, they will not withhold the verified status of an NFT collection if their actions are not considered to be malicious.
Supported Wallets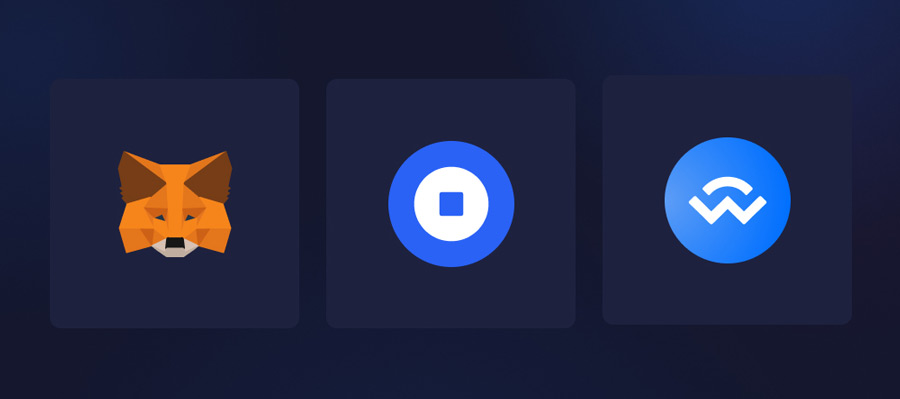 Just like its competitor, LooksRare supports a huge number of Web3 wallets through the "wallet connect" service. At the point of writing this guide, there are more than a hundred different wallets supported for trading NFTs on LooksRare.
If you're not sure which one you should use or haven't set up a wallet for yourself before, we recommend you use Metamask as they currently don't make users go through a KYC process beforehand.
Supported Blockchains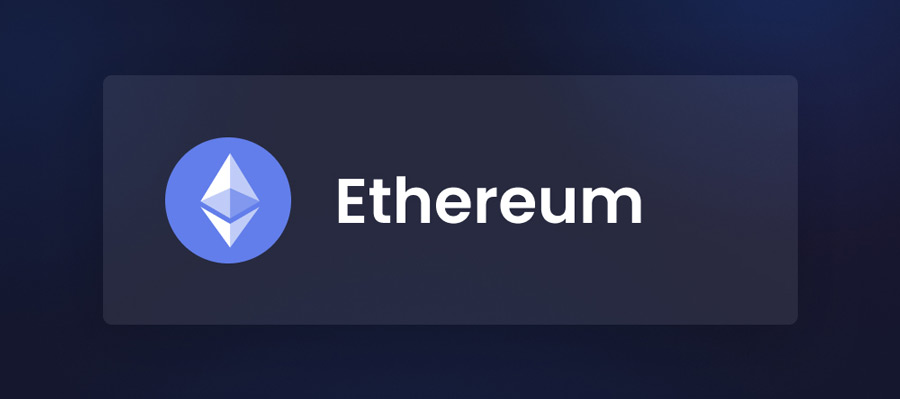 At this moment LooksRare NFT marketplace only offers to buy and sell NFTs that are linked to the Ethereum blockchain. This makes it easy to import listings from OpenSea without creating new ones as NFTs are connected to the same smart contract as they are on OpenSea.
While this poses a low entry barrier to join the platform on one side, it will give LooksRare probably a hard time competing to be the best NFT marketplace in the future.
Summary
We hope our guide gave you an idea about the workings of the contender for the biggest NFT marketplace. LooksRare NFT marketplace offers unique features that set it aside from its competition.
Only time will tell if these features will prevail, but at this point, it looks like LooksRare has a bright future in the NFT space. Buying and selling NFTs on LooksRare is as easy as using OpenSea and if you like rewards for trading NFTs, LooksRare might be worth taking a look at.
Find more: Looksrare nft – Krypto-NFTs
Source: 🔗