You've probably heard that some people have profited highly from NFT investments, and you might be interested in doing the same. The assets are proving to be very lucrative for some investors, but many still wonder how to get into the space at all. If you'd like to know how to make money with NFTs, read on.
With Web3.0 around the corner, and the fact that we're all be probably going to meet in the metaverse soon, this is useful knowledge to have. To that end, we've found five legit methods to earn from your digital files.
NFT market overview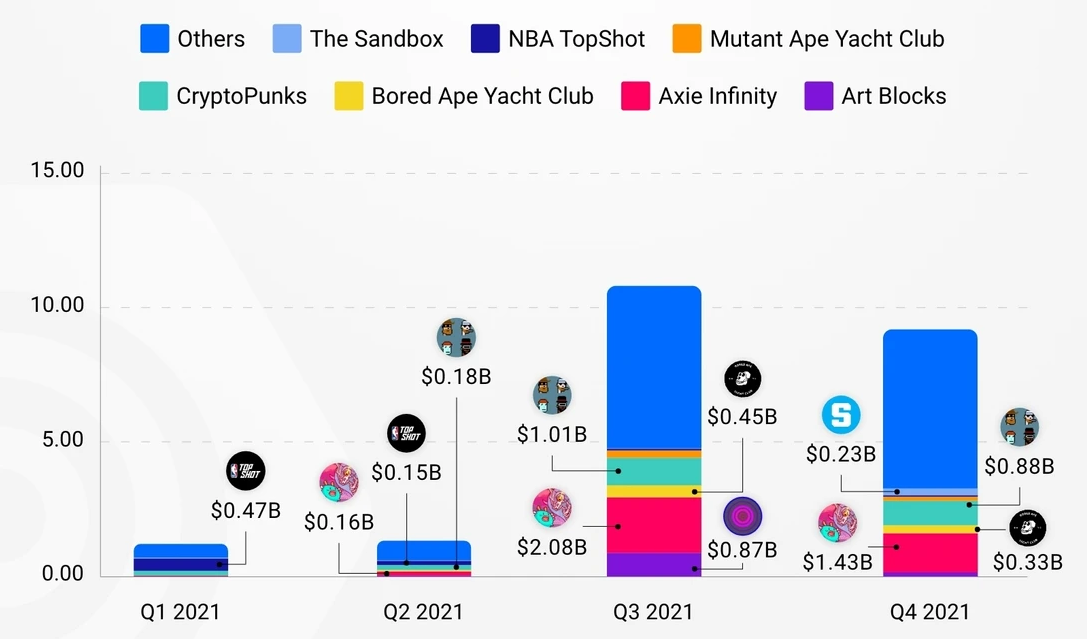 Non-fungible tokens (NFTs) have become an important market within the crypto space, and they have exploded in popularity during the last year. These are blockchain-based digital items, and most of the popular NFT projects are based on the Ethereum network.
According to DappRadar's Industry report, the niche amassed over $23 billion in trading volume, making 2021 the best year yet. The most expensive NFT ever sold is Beeple's art piece "Everydays: the First 5000 Days," auctioned for $69 million in Mar. 2021. As of 2021, OpenSea is the most popular NFT marketplace, counting for NFT trading volumes of over $16 billion in cryptocurrency.
NFTs can be almost anything, but are most often media like images, videos, audio — and in some cases even physical objects. They are often used to give ownership rights to the object, data, or media associated with the token. They can also be bought and sold on specialized markets, which we will talk about below.
NFTs have seen significant increases in the average transaction size and total value sent, which suggests that they are becoming more valuable as they gain new users. The release of the new collection by Bored Ape Yacht Club, a popular NFT creator group, is also proof of this.
Similar to decentralized exchanges for cryptocurrencies, NFTs are traded on specific marketplaces, like OpenSea or Rarible. NFT creators, collectors, and investors list their assets on these marketplaces and retain complete ownership until it has been purchased by someone else.
How to make money with NFTs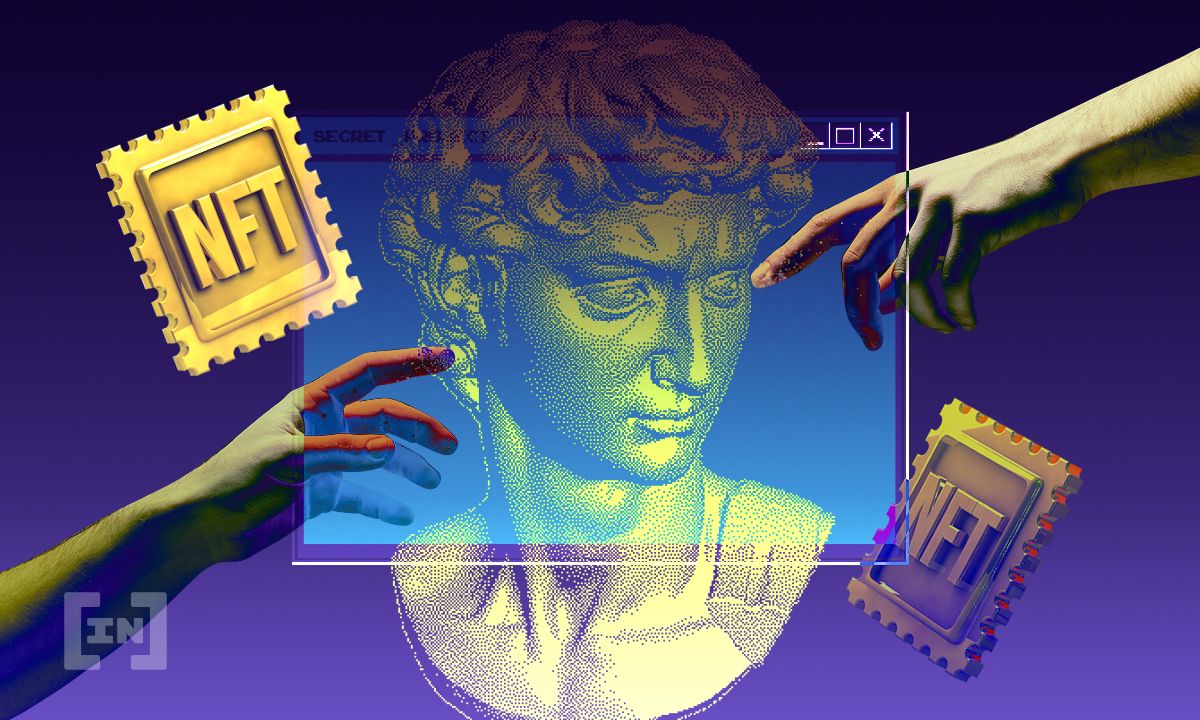 Still fairly new, not many investors and collectors know the best practices regarding how to invest in NFTs, and even less the full potential that they offer. NFT marketplaces can be a lucrative wellspring if you know what you're doing.
We've found five ways to help you make money with NFTs that you already own.
Read more: What Is An NFT? Non-Fungible Tokens Explained
These are the five ways to make money with NFTs:
NFT staking
Flipping NFTs
Rent NFTs
Earn Royalties from NFTs
NFT gaming to earn crypto
1. NFT staking
Staking is the main advantage when combining NFTs with decentralized finance (DeFi). You probably know by now that you can generate an advantageous interest, called yield, if you stake your crypto assets. Luckily, staking isn't a feature reserved for cryptocurrencies anymore, and NFTs can also be staked, to generate a passive income. Staking refers to locking your digital assets for certain periods of time, in exchange for a reward.
Some platforms allow you to use a variety of NFTs. Others require that you purchase native NFTs to be eligible for staking token rewards. These tokens are usually denominated in native utility tokens.
The NFT platforms that allow NFT staking are:
Kira Network
NFTX
Splinterlands
Only1
Sometimes, part of rewards given to stakers can be in the platform's governance token. Token holders are granted voting rights to influence the future development and evolution of the platform and its ecosystem. Note that it is possible to reinvest the coins you earn from NFT staking in other yield-generating protocols. Bet you never thought about staking when you started looking about how to make money with NFTs.
2. Flipping NFTs
Another way to make money with NFTs is the most obvious method, to flip them.
Flipping NFTs means you buy an NFT when the project is brand new on the market, usually during the minting phase, and then sell it for a higher price, on the specific NFT marketplace.
Selling NFTs isn't a right reserved solely for NFT creators (although you can easily create your own NFT). Many crypto investors see NFTs the same way they see crypto trading or even stocks. And many of them have already managed to buy and sell NFTs for a profit.
But trading NFTs is all about knowing when to sell them. It depends on the type of NFT, its utility, and whether there is any other interest. This can be determined by quick research on the Internet and on marketplaces. You can also check out this guide about finding profitable NFTs.
Read more: 10 Reasons Why NFTs Are Stupid
Price appreciation and depreciation are also factors to consider. You can calculate your profit and loss by adding additional costs such as gas fees, marketplace listing fees, and royalties paid to the original owner. These fees will eventually reduce your profit.
However, be ready to put in more time and effort, as flipping NFTs for profit will require substantial research and in-depth knowledge and understanding of the cryptocurrency market.
3. Rent your NFTs
Renting out your NFTs is a great way to make money for some passive income, especially if you already own assets that are in high demand.
For instance, some NFT card trading games let players borrow cards to increase their winning chances. Smart contracts govern the terms of the agreement between the parties. Users can usually choose the length of the rental agreement and the NFT lease rate they prefer.
ReNFT is a leading platform that allows users to lend or rent NFTs. Lenders can set maximum borrowing periods and daily rates. Currently, they can charge between 0.002 to 2 wrapped ether (WETH). Fantasy football fans can use platforms such as FootballCoin to rent their limited edition NFT footballers cards, to earn more crypto.
4. Earn royalties from NFTs
Did you know that NFT creators can set a royalty fee when their NFTs are sold on the secondary market, as a percentage of the selling price? This means that you, as a creator, can still earn passive income after you sell your NFT, for the first time.
This allows them to keep a portion of the NFT sales price indefinitely. If, for instance, the royalty rate for digital artworks is 10%, then the original creator will be paid 10% each time the artwork is resold. Note that each NFT marketplace lets you set your custom royalty fee when you first create your NFT.
The entire process of earning royalties from NFTs is easy and doesn't require any additional expertise. It is all done from the NFT marketplace interface. As with most things in the DeFi space, smart contracts are responsible for the whole process of distributing royalties. As a creator, this means that you don't have to track payments or enforce royalty terms manually.
5. NFT gaming to earn cryptocurrencies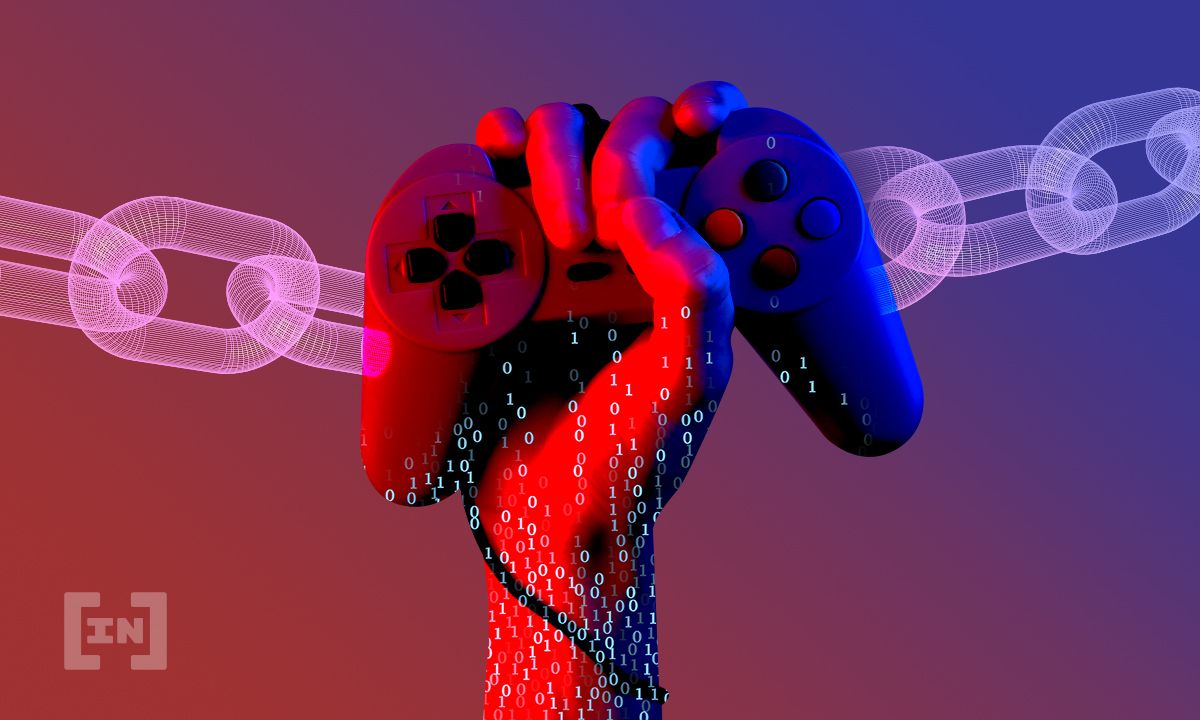 NFT-based video games could be the future for NFT technology. While none of the NFT-based games have become globally popular, the potential for applying NFTs in video games is immense.
Read more: The NFT revolution is underway, and heres what our future will look like
Gamers have been known to spend a lot of money on virtual goods. These markets, whether it's World of Warcraft gold or Counter-Strike skins, are worth billions of dollars. The impact of any major video game company selling in-game items as NFTs would be enormous on gaming and the blockchain ecosystems. But the question of how to make money with NFTs in blockchain games is a little more complex.
While a lot of the NFTs we see today on marketplaces are digital artworks, there is a significant percentage that adds up to the in-game NFTs. These assets can be also used within their specific games and platforms, as most are play-to-earn games, to earn more crypto.
We're expecting to see many more projects launching in this sector in the following years, but we've already seen phenomenal success from games such as Axie Infinity, Plant vs. Undead and the one and only CryptoKitties.
In-game NFTs offer a far superior experience to digital trading cards or interactive NFTs such as virtual works of art. Video games use tokens that can be extremely complex and interactive.
By truly owning your in-game assets, you can rest assured that these in-game NFTs are an investment and not an expense on your hobbies. Play the game, use the NFTs to generate more crypto, and simply sell them when you are bored or want a different one. It's that easy.
Anyone can make money with NFTs
Now that you know how to make money with NFTs, keep an eye out for NFTs that can be staked, rented, or used as in-game assets. You need to make sure you invest in the right ones — that should be your priority.
If you're an NFT creator, start planning your next NFT collection, and don't forget to set up a proper royalty fee for your digital artwork.
And this is just the beginning of the NFT era. As the metaverse will take over our digital lives, we're expecting to see many more options and features on the NFT marketplaces and platforms.
NFTs can be hard to keep up with, so why not join BeInCrypto's Discord server to ensure you're on top of everything?
Frequently asked questions
Read more: The nft might be already – Krypto-NFTs
Source: 🔗