Buying Bitcoin has a reputation for being difficult and intimidating, but in reality it really doesn't have to be so complicated.
These days, it can be as simple as picking up your phone, tapping a few times, authenticating the purchase, and receiving your Bitcoin.
If you're looking to learn how to buy Bitcoin using Apple Pay – one of the most convenient ways to purchase the cryptocurrency – you've come to the right place. But first, let's take a look at what exactly Apple Pay is.
–
There are a number of services that support buying Bitcoin with Apple Pay. Coinmama, Wyre, and Banxa all support many U.S. states and dozens of countries worldwide, with some notable differences between their offerings. Additionally, there is always the option of peer-to-peer markets, which offer the widest range of payment methods.
Buying Bitcoin With Apple Pay on Coinmama
Coinmama is one of the largest cryptocurrency exchanges to support Apple Pay. They unveiled this feature in a blogpost that touched on recent trends toward mass adoption of crypto, such as PayPal allowing users to purchase Bitcoin on their platform.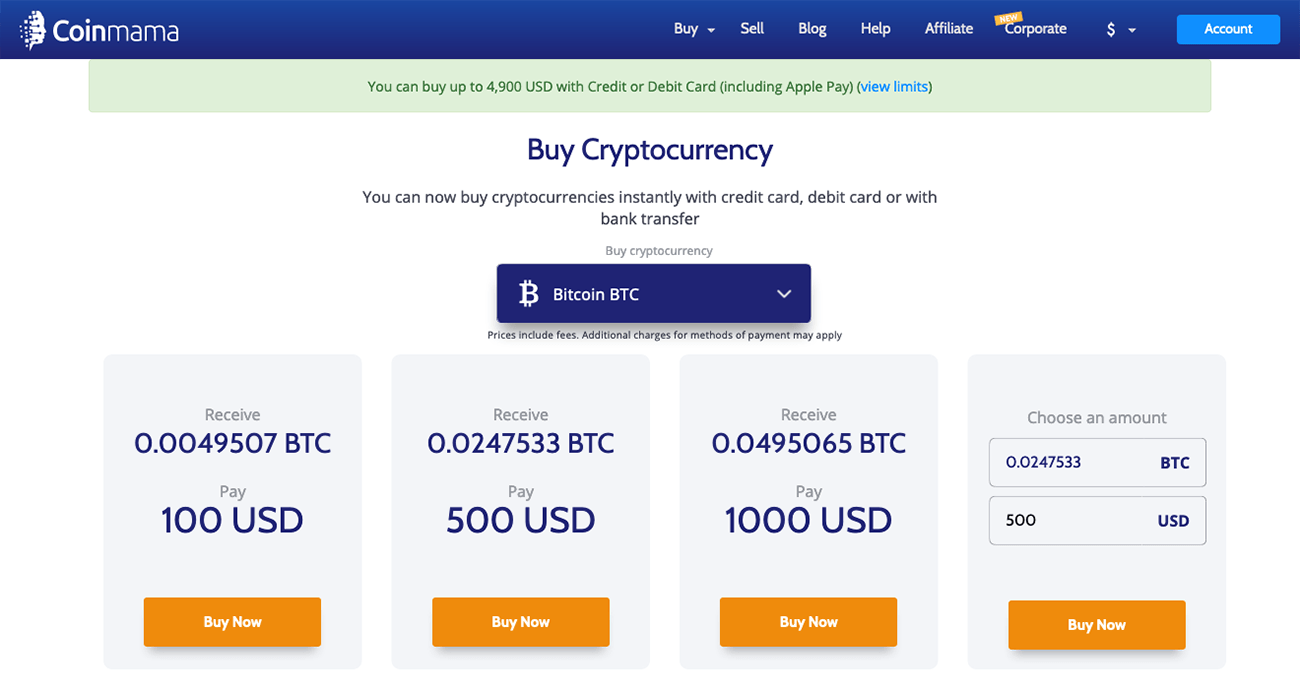 Buying Bitcoin with Apple Pay on Coinmama is simple. After creating and verifying an account, head to the Buy page, where you'll see options for buying amount of Bitcoin ranging from $100 to $1000. You can also select a custom amount to purchase.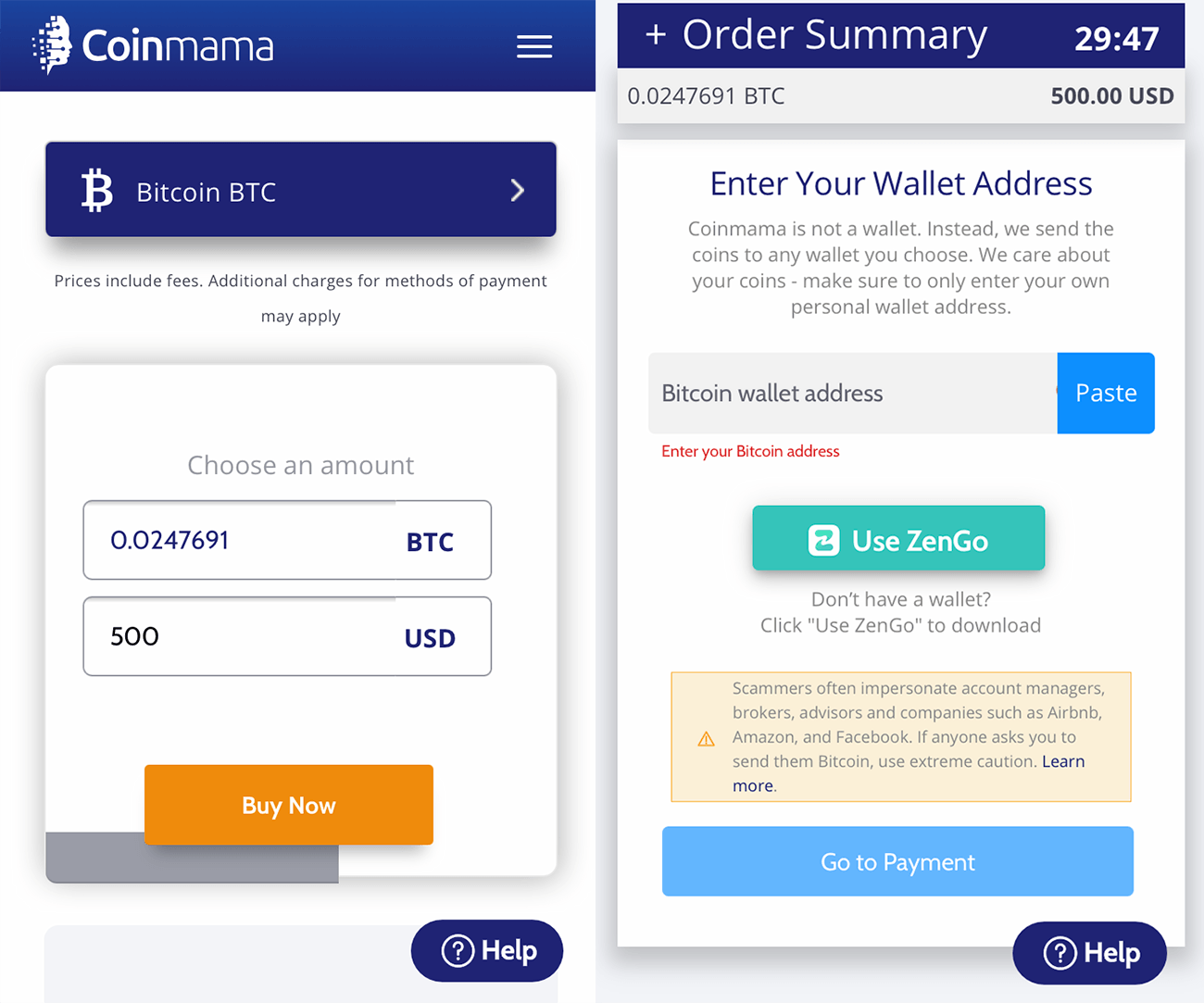 After selecting the amount you wish to purchase and entering the wallet address you want your Bitcoin sent to, select Apple Pay from the range of payment options listed. You'll need to do this on a device with an Apple Pay-compatible card linked.
As you can see, there is a 5% fee applied for the convenience of using Apple Pay to buy Bitcoin in a matter of minutes. Coinmama makes it easy to see exactly how much Bitcoin you'll be receiving and how much you'll pay in fees.
Buying Bitcoin With Apple Pay Using Wyre

Wyre allows you to buy Bitcoin and many other cryptocurrencies using a Visa, Mastercard, or Discover credit or debit card. You can link any of these supported cards to Apple Pay and checkout with it for a streamlined experience.
One of Wyre's best features is that it doesn't require you to create an account or undergo KYC verification in order to purchase Bitcoin, meaning your personal information isn't at risk in the event of a potential data breach.
Purchasing Bitcoin using Apple Pay with Wyre is available to residents of all U.S. states excluding Connecticut, Hawaii, New York, New Hampshire, Texas, Vermont, and Virginia.
Internationally, residents of Algeria, Argentina, Australia, Austria, Belarus, Belgium, Bolivia, Brazil, Canada, Chile, Colombia, Costa Rica, Cyprus, Czech Republic, Denmark, Dominican Republic, Estonia, Finland, France, Germany, Greece, France, Hong Kong, Iceland, India, Indonesia, Israel, Ireland, Italy, Japan, Latvia, Lithuania, Luxembourg, Malaysia, Mexico, Nepal, The Netherlands, New Zealand, Norway, Paraguay, Peru, Philippines, Poland, Portugal, Singapore, Slovakia, Slovenia, South Africa, South Korea, Spain, Sweden, Switzerland, Tanzania, Thailand, Turkey, and Vietnam can use the service.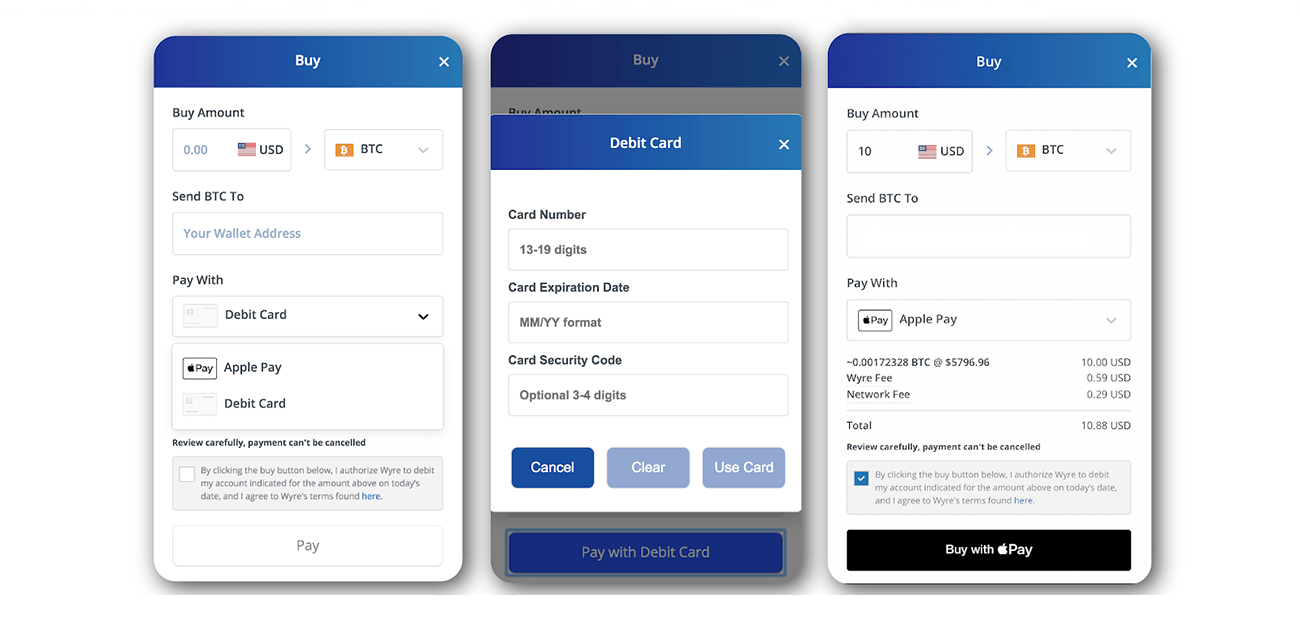 Users can link Visa, Mastercard, or Discover debit or credit cards, making it one of the few platforms to support credit cards. Some card providers categorize cryptocurrency purchases differently to regular transactions and impose a cash advance fee. It's worth checking with your provider to confirm what fees, if any, they will apply.
There is a minimum purchase amount of $1.00. U.S. residents can buy $500 per week, up to a maximum of $5,000 per year. Residents of other supported countries can purchase $1,000 weekly up to $7,500 yearly.
Fees are more competitive than CoinMama, with a $5 minimum fee or 2.9% + $0.30, whichever is greater.
Wyre does not have its own standalone app. Instead, it partners with platforms such as Redeeem and BRD to power in-app crypto purchases.
Buying Bitcoin With Apple Pay Using Banxa
Banxa is very similar to Wyre in that it provides fiat on-ramp services to third-party platforms such as Shapeshift and Changelly. It has the added benefit of having a standalone web interface, meaning you can purchase Bitcoin directly through Banxa's website.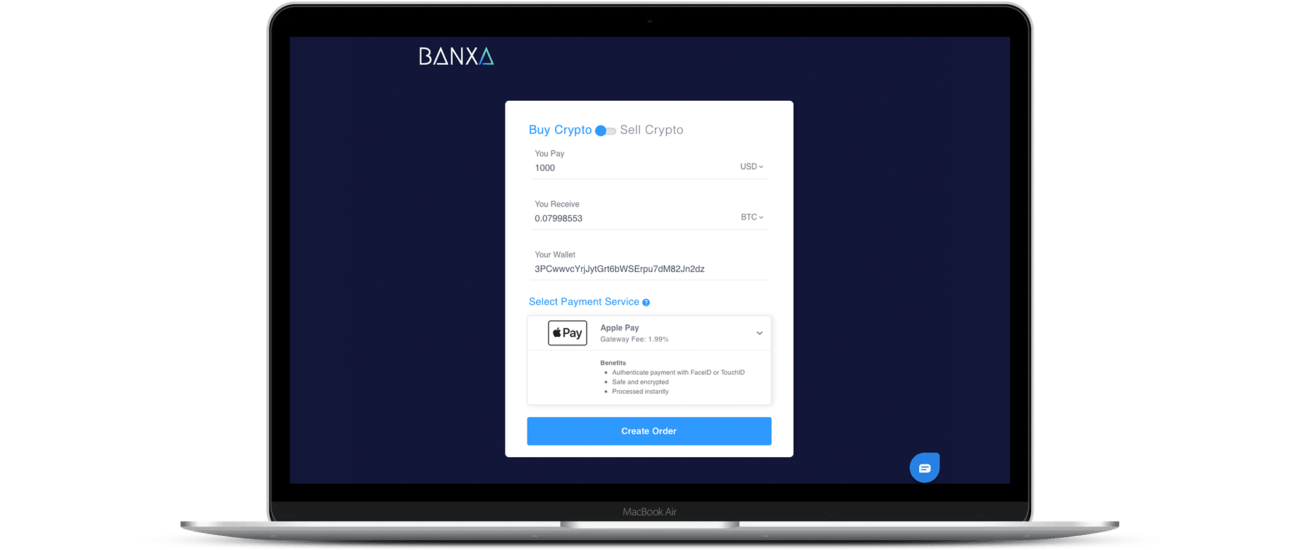 You will, however, have to provide documents to satisfy Know Your Customer and Anti-Money Laundering (KYC/AML) laws.
Buying Bitcoin With Apple Cash
Another way to purchase Bitcoin using Apple Pay is by using Apple Cash. Apple Cash allows you to send money from any linked card to a recipient. This can be anyone, all you need is their iMessage details. iMessages are end-to-end encrypted, so you're not sending any payment details in the clear.
You can use Apple Cash to buy Bitcoin on a number of peer-to-peer (P2P) exchanges. Paxful has a decent amount of sellers who accept Apple Cash.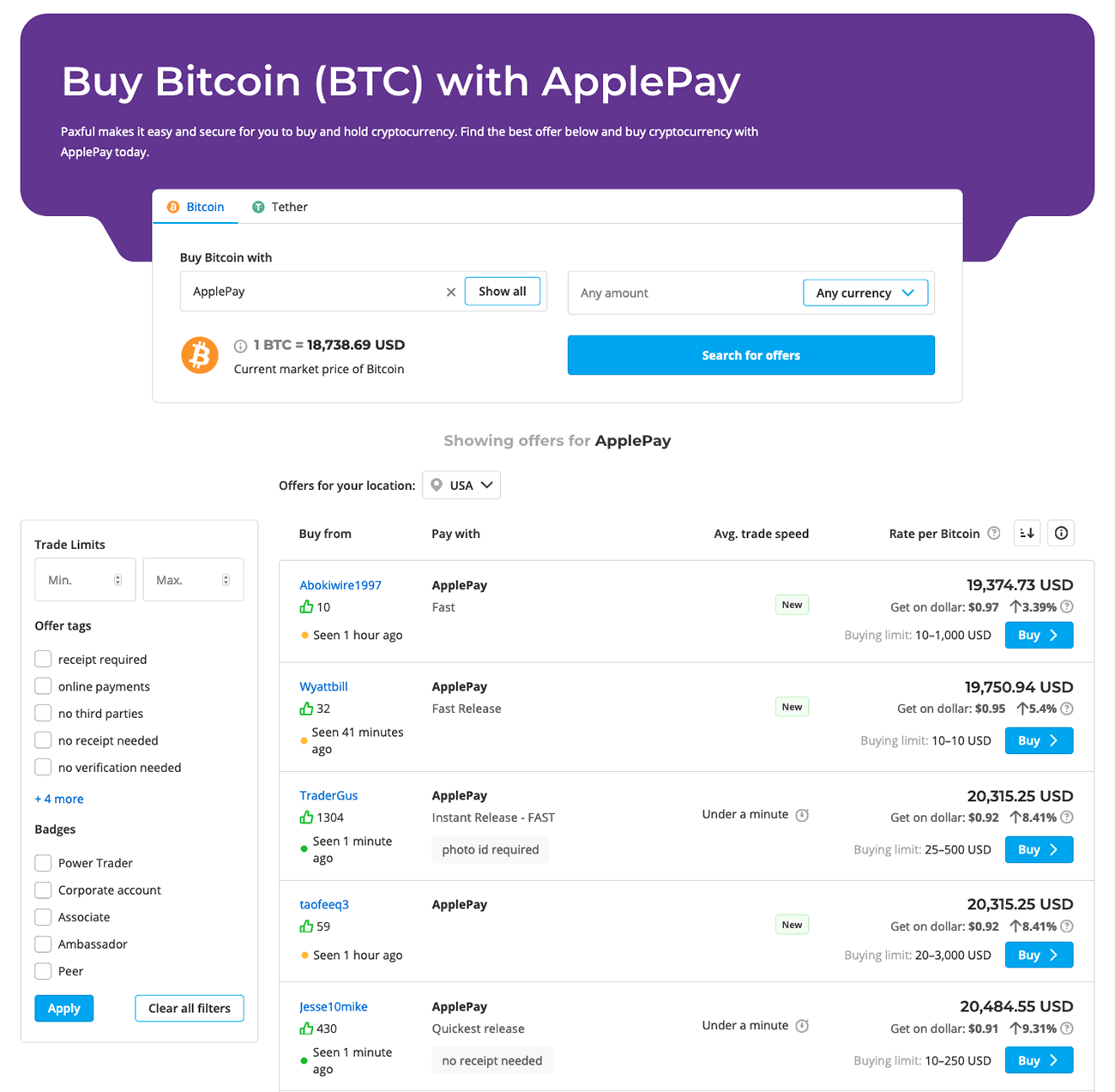 LocalBitcoins is another option.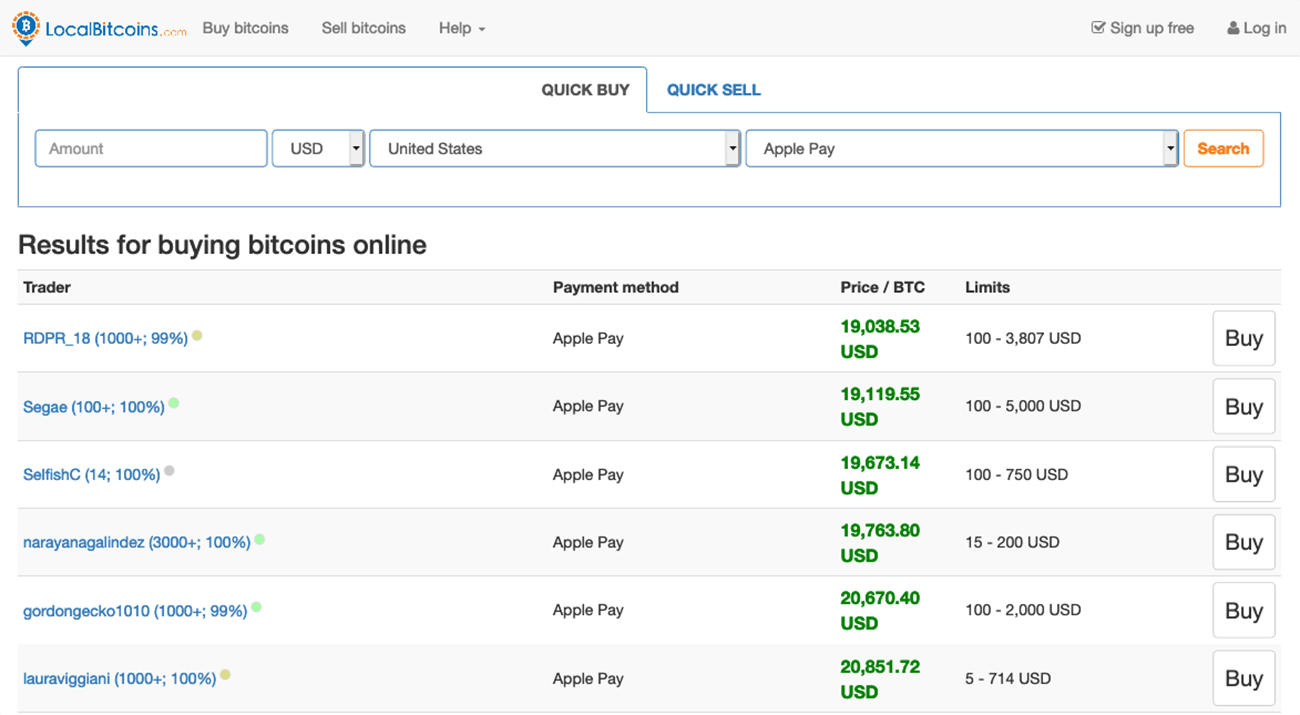 Be aware that many sellers have quite stringent identity verification policies.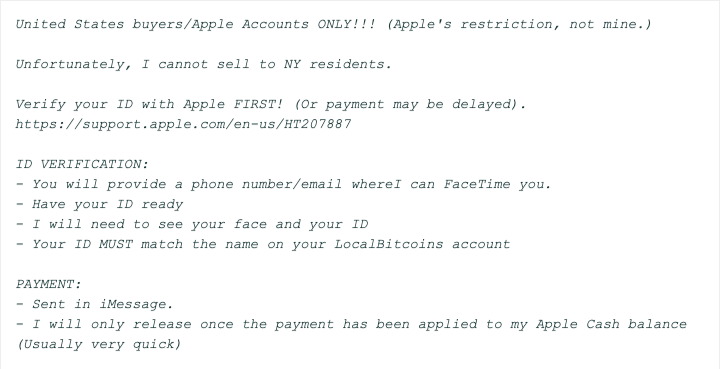 As always, be sure to conduct trades only through the P2P platform where you are protected by the escrow and dispute arbitration services.
–

Apple Pay is Apple's iOS native payment service and digital wallet. Apple Pay improves on traditional payment methods in many ways, especially when it comes to security.
Your card number is never shared with the merchant you're purchasing from. Neither does Apple keep track of your transactions, meaning your purchases can't be used to build a profile that can then be sold to advertisers – as MasterCard, Amex, and potentially many more card providers do.
Not content with merely acting as the middleman for other payment providers, Apple Card is the tech giant's answer to complicated credit card fee schedules and lack of customer privacy. There are no annual fees, and Apple doesn't print any number on the physical card. This means that if it falls into the wrong hands, the potential thief would not be able to use your card details to purchase anything – even online, which typically only requires the information immediately visible on the card. It integrates easily with the iOS Wallet app and Apple Pay.
Apple Pay's software takes advantage of a special chip that all models since the iPhone 6 have built in. This chip, called an embedded Secure Element (eSE), is a specially-designed, tamperproof piece of hardware that can securely host applications and their sensitive data. This can include cryptographic keys, the same keys that secure cryptocurrency wallets. This means that these function a lot like a crypto hardware wallet.
Apple Pay transactions must be authenticated by Touch ID, Face ID, or your device passcode. This makes approving transactions just as secure as using a PIN code while being quicker and much easier.
Apple Pay is available in the United Kingdom, Canada, Australia, Brazil, the United Arab Emirates, Saudi Arabia, Russia, Ukraine, Kazakhstan, China, New Zealand, Singapore, Japan, Taiwan, Hong Kong, Macau, Georgia, Belarus, Montenegro, Serbia, and all countries in the European Economic Area (EEA)
Apple Pay is a step toward customers reclaiming their privacy from payment processors, something which cryptocurrency enthusiasts are likely to appreciate.
But how can you use Apple Pay to buy Bitcoin in 2020? Let's take a look at the ways this is possible.
Read more: Apple should create crypto buy bitcoin – Krypto-NFTs
Source: 🔗